After all the freezer prep yesterday, I had very little inclination to prepare dinner.  I had already been thinking about BLTs to use up some tomatoes we had.  This is my easy method of cooking bacon.
You may remember this from the epic chicken tender fail: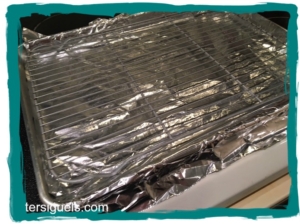 This is just a half sheet baking pan covered in tin foil, and a baker's cooling rack on top.  Pretty easy right?  I spray the rack so whatever I am cooking, in this case, bacon, doesn't stick to it, and it makes for easier cleaning.
Getting the pan ready is the "hardest" part of this preparation.
Up next, just lay the uncooked bacon on the baker's rack.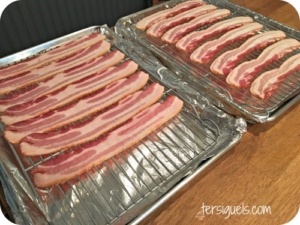 Throw these bad boys into a 425 degree oven.  Set the timer for 20-25 minutes.  Pour cocktail.
If you prefer more crispy bacon, you are definitely going to need the full 25 mins.  You can flip half way thru if you want, but it's not necessary.  If you like chewy bacon, 15-20 minutes is your time frame.  All things considered about timing, I use thick cut bacon, if you are using a standard bacon, lesson the time, or your bacon will burn, and it will be a sad and tragic day.
Once the timer goes off, pull those trays out of the oven.  I had one crispy tray and one chewy tray because Chef prefers crispy and I prefer chewy.  Here is the crispy tray.
Let's just say, you wanted to cook bacon for the week.  On day one you have bacon for breakfast, on day two you have a BLT at lunch, on day three you have BBQ bacon cheeseburger (right now, I am thinking I want to come to your house), and so on.  No problem.  While your oven is already on, especially in the summer months, get it all baked at once.  Whatever you have leftover, you can wrap in a paper towel and store in an airtight container.  You can keep it in the fridge for up two weeks. (Probably longer, considering the curing process bacon goes through, but we have never made it past the ten day mark with bacon left.)
I like this baking method because the grease is contained, and we all get our bacon cooked just the way we like it.  What I really love about it, is the clean up.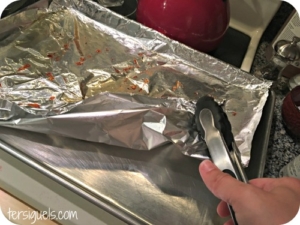 I was doing this while the pan was still hot, and you do not have to that, I was just trying to get somethings cleaned up on the counter, so I had no patience.  I used the tongs to pick up the baker's rack and put it right in my dishwasher, and I just wrapped all the grease into a foil packet that went right into the trash.  And underneath is a clean sheet pan.  Cleanliness is next to godliness, and as a mom if I don't have to clean one thing, it makes my day.
The next time you are making bacon – give this easy method a go.