One of the best things about decorating this time for year, is that unless the decorations are Christmas specific, like a nativity and a Christmas tree, the decorations can stay up long after Christmas.  In our house, our outdoor Christmas lights burn bright until just after Valentine's Day.  It made me want to share a unique and fun winter arrangement you can make for your front porch, back porch, patio, really whatever your heart desires.
The day I was stringing our lights and pine roping I noticed we had lost a pretty large branch from one of our white pine trees.
That got the wheels turning.  I would normally go to Home Depot to buy cut greens for this project, but as I looked around, I realized I could use greens right from my own yard. So let's get to it. I trimmed off a few branches from the white pine, the evergreen tree in our back yard, my rosemary bushes, and then a laurel* bush in our front yard.
I used an urn that I keep on the front porch.  I did zilch with it this Fall.  Just sat there, so I didn't need to do much prepping. The gist – you need a planter and soil.
Sorry for the shadow.  I watered the soil before getting started.
It's as easy as layering anything.  I started with the evergreen because you need some height for this one.
Adding in the white pine.  I trimmed some of the branches for the front to hang over the edge.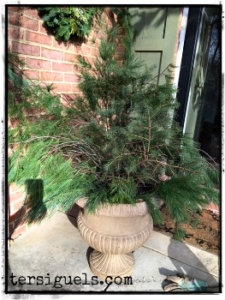 Now you have a good base to work with.  I added in the laurel and rosemary.  (No, there really is no rosemary in this picture, I skipped photographing that step before moving onto the next step.)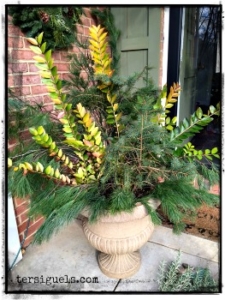 Once all of your greens are arranged you are ready for the fun.  A side note, this is the easiest arranging.  If you have no skills in arranging, this is the place to start because you can just put them in the soil, and move them around if something isn't working.  Plus, all the mess is already outside.
Up next the real fun. I grabbed a box in the basement filled with sticks painted white, sticks covered in glitter and "glass" beads, glittered eucalyptus, and some other fun things.  My color scheme is green, white, silver and some blue, but you can pick anything you want.  To be honest, this is partly because I already had these things.
For the fun stuff, this is a terrible picture.  Oh well. Just like before, I started layering in the taller items and working my way in.  You can also see the rosemary added in here.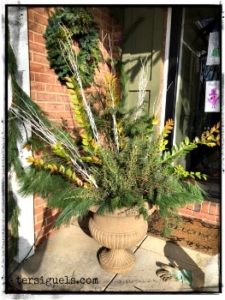 After the white sticks, I added in the silver and "glass" covered branches.  Sadly, they don't show up will in the picture, but in person they add another dimension.

Layer three included all the glitter.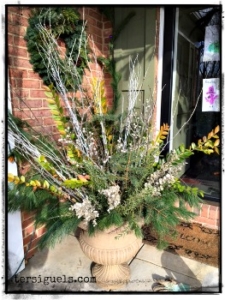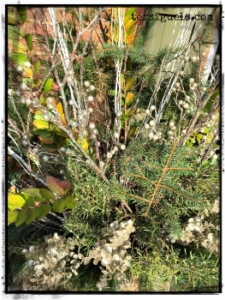 Layer four was adding in some pics of silver balls and pine cones.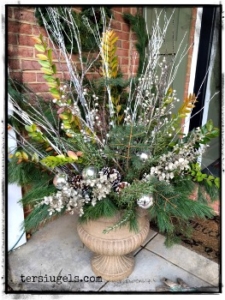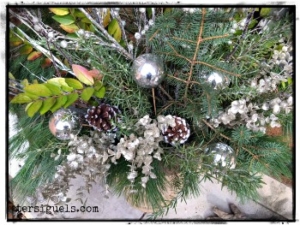 And finally, one my favorite things in any floral arrangement.

I love these because of the whimsical element they add.  This is my forth year using this package.  You can use as many or as few as you see fit.
And when it is all said and done, you end up with this.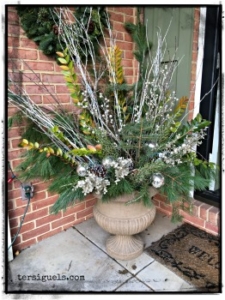 As long as you remember to water this baby, she will last all winter.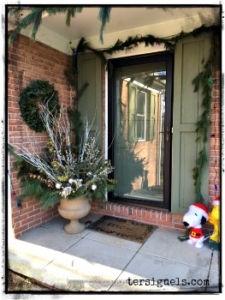 A few quick things to add….
Other suggestions for greens – boxwood, juniper berry, eucalyptus
The floral picks are from Michaels and Home Depot, but you can get them all over.  Hobby Lobby, Target, Pier 1, Lowes, Ace Hardward, JoAnn's Fabric, etc.
I did not do this, but I highly recommend wearing gloves because your hands will look like this afterwards:


Happy Arranging!
*After three text messages between my aunt, cousin and Mom, it was determined that it was a laurel.  A pathetic shrub because I have not cared for it properly.  So come March it will get Hollytone and pruning.  Always learning something myself on this blog.