Alright, here is a little something you may not know about me.  I like sports. It's not anything spectacular because lots of people like sports.  I am an avid Ravens fan.  I enjoy watching the Wizards, Terps, Capitals (C-A-P-S! Caps! Caps! Caps!) I'm not much of a baseball fan, but the beer is always better at the stadium, and seeing L&L have a love for the O's makes me want to watch.  I am a hometown girl, what can I say.
I love the Olympics.  (And they are coming, so we will discuss again.) I was pregnant with L2 when Isner and Mahut played the longest match in tennis history.  My in-laws are from France, and it's always fun seeing how excited they become when their home town is on the Tour.  The World Cup is a two year build up in our house.  When the US women won, I wanted to shout from the rooftops.  All this back story about myself and sports does have a point.  Triple Crown, baby.
While I am sharing about me, I will fully admit, I know jack about jack when it comes to horse racing, but I know how awesomely exciting watching the Triple Crown races really is.  And friends, last year was the first time in my lifetime there was a Triple Crown Winner.   It's true what they say, it's the most exciting two minutes in sports.
It's not just the excitement.  I really love the traditions that the Kentucky Derby, specifically, has maintained.  The Derby has been running at Churchill Downs since 1875.  The race, the hats, the roses, the mint juleps.
I won't be traveling to Kentucky anytime soon, but you can bet your bottom dollar Saturday evening, I will be enjoying a mint julep and watching Bob Costas on NBC.  I am hoping you will be too.
There are several different methods for mixing this long standing cocktail.  It comes down to this.  You need bourbon, mint, sugar, crushed ice.  If you have julep cups, it's all the more fun.  (You can pick these up at Pier1.)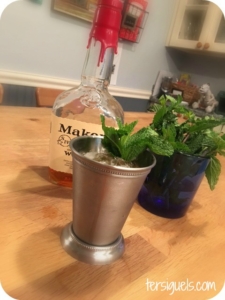 Mint is a bit of an oxymoron in itself.  If you grow your own, it's abundant.  You really can do anything to it, and it will grow.  It's also self propagating, so if you plant in the ground, the next season it will come back everywhere.  The flip side, the leaves bruise easily once picked, so you want to handle it as little as possible.  Mint doesn't need to be chopped.  Clean it with water and tear the leaves.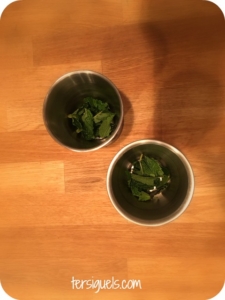 Each cup has 6-8 leaves torn in half.  I then added simple syrup.  And filled the glass to the rim with crushed ice.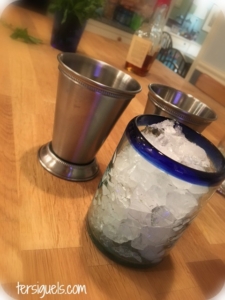 Once the glasses are full of ice, I poured the bourbon right over it.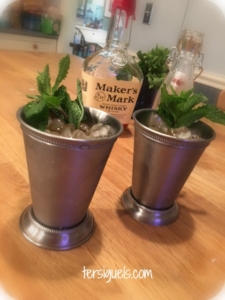 Garnish with a sprig of mint.  ENJOY!
I can just imagine walking around Churchill Downs, keeping cool by sipping on Mint Juleps.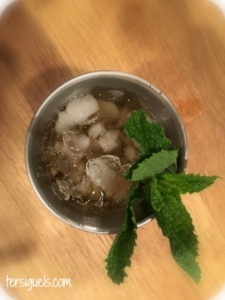 Mint Julep
2 oz bourbon
6-8 mint leaves, torn in half, plus more for garnish
1 T simple syrup
crushed ice
julep cup or rocks glass or pint glass if you are thirsty or solo cup
Put the mint leaves in the bottom of the cup.  Pour the simple syrup over the mint leaves.  Fill the cup with crushed ice.  Pour the bourbon over the ice.  Garnish with mint.
Simple Syrup
Combine equal parts sugar and water and bring to a boil.  Once the sugar is dissolved, remove from the heat and let cool.  Store in an airtight container for up to six months.